For the sake of tranparency and to contribute to our customers' confidence, the GWLAB team believes that it is important to expose its customers to the process a gem goes through from the time it enters the lab for testing. Each gem item follows a well-defined process with specific stations along the way from the moment it is received until the generation of the report at the end of the process. The maticulate process is set in place in order to provide reliable, unbiased and consistent results.
At first, the gem is received by the administration office team, during which its general characteristics, such as its overall color, weight and shape is recorded in the database. A serial number is then attached to the gem case and any revealing information regarding the identity of the submitter is eliminated, to ensure unbiased testing.

The gem and the serial number are passed on to the GWLAB gemological laboratory, where a certified gemologist performs all the necessary test and measurements to identify and grade the gem, using professional testing and measuring equipment, as well as magnified observation by means of a microscope.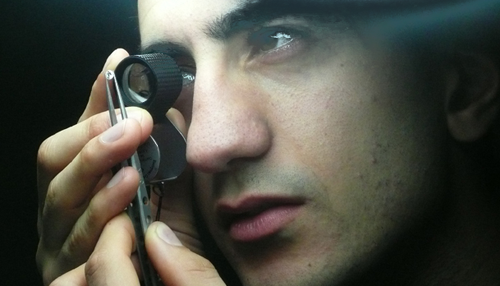 Testing a diamond
The gem's color grade is established using our pioneering and unique double inspection technique, where both physical and digital color master sets are used. The physical color master set comprises a signifcant number of color-callibrated gemstones and diamonds, while the digital color master set is based on Gemewizard's color technologies, which provide unprecedented color resolution of over 9000 possible gem colors and over 2000 colored diamonds' grade combinations.
Once the gemologist completes his or her examination, the gem is passed on to a senior gemologist, who rechecks it and confirms the first gemologist's findings. If the senior gemologist disagrees with one or more of the findings, a third gemologist is called upon to give judgment.

Once the results are finalized, the gem's findings are entered into the GWLAB database. The administration team updates the submitter on the gem results, allowing the submitter to either give his or her consent to print a report or to request an appeal (recheck).


Each gem is inspected by at least two GWLAB gemologists
If the submitter asked for a recheck of a certain grade, the gem is returned to the lab, again anonymously, for examination. The recheck is automatically scheduled for the morning of the following day, allowing new, fresh testing conditions. In addition, the recheck is carried out by a senior gemologist, who was not involved in the grading process of that specific gem and is therefore without prejudice.

The process above is shared with our customers for transparency reasons of the laboratory's work and to guarantee its credibility.